Applications
Postural Vasoconstriction
On changing posture from a supine position to standing, the microvasculature of the lower limbs vaso-constricts. This is the veno-arteriolar reflex (VAR) and the associated change in blood flow can be assessed by laser Doppler. The VAR is a mechanism that protects the delicate microvasculature of the lower limbs from damage due to excess hydrostatic blood pressure. The impairment of the VAR is seen in diabetes and more recently in primary biliary cirrhosis.
Although monitoring can be used, imaging will provide multiple LD flux measurements that can be averaged. The VAR index is Flux average in the dependent position / Flux average in the supine position x 100%. Observed values for VAR: normal healthy = 18%; diabetic without neuropathy = 29%; diabetic with neuropathy = 54%.
Equipment Recommendations
The VAR can be assessed by imaging if measures are taken to enable the scan head to move by the 50cm change in height and any angle adjustments during change of foot position; the moorLDLS2 on an MS3b mobile stand would be an appropriate choice. The moorVMS-LDF with a VPIT/7 probe can also be used in conjunction with moorVMS-PC software.
Laser Doppler Line Scanner

moorLDLS2
Rapid laser Doppler blood flow imaging
Accessories
MS3B - Mobile Stand

Laser Doppler Monitor

moorVMS-LDF
Advanced, laser Doppler blood flow and temperature monitor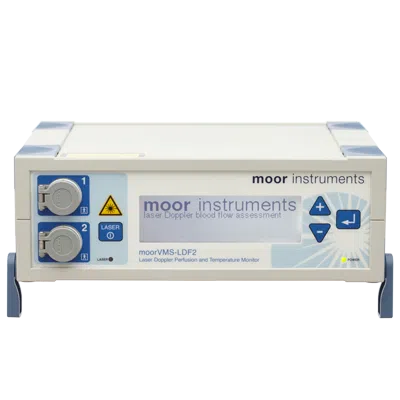 Accessories
moorVMS-LDF - Advanced, laser Doppler blood flow and temperature monitor
SOFTWARE-VMS-RESEARCH-4VX - Advanced aquisition and analyses functions to collect signals and automate control protocol modules
VP1T/7 - A combined temperature and optic probe that delivers light at a right angle to the probe cable with 8 collecting fibres in a 2mm ring with a central delivery fibre

What Next?
Contact us to discuss your specific needs and to request your copy of our free Application Note which includes a detailed experimental method and practical suggestions. We also offer no obligation on-site visits so you can test the equipment in your facility.