Applications
Stroke Model (MCAO)
The middle cerebral artery occlusion (MCAO) model is a commonly used technique for the creation of a stroke model. Laser Doppler is typically used in order to confirm that occlusion has taken place and ischaemia has occurred. With successful surgery novel therapies can be tested to assess the impact on stroke recovery. Typical published figures demonstrate that a reduction in monitored blood flow of up to 90% can be observed following successful occlusion.
Equipment Recommendations
We recommend the moorVMS-LDF, moorVMS-PC software, VP10M200ST master probe with P10d single fibre slave probe with corresponding probe holders. Surgical glue and accelerator can be used to securely fix the probes in place. For thicker skulls (older/ larger rodents) the single fibre solution may not penetrate the skull sufficiently and in this case the twin fibre VP14-CBF probe is used. For those using a stereotaxic frame we recommend the use of needle probes, the VP3, VP4 or VP5.
Laser Doppler Monitor

moorVMS-LDF
Advanced, laser Doppler blood flow and temperature monitor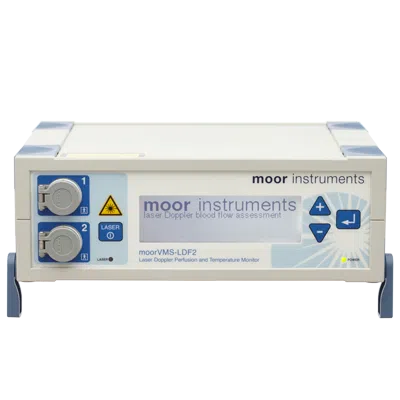 Accessories
VP10M200ST - VP10M200ST 'master' probe
P10d - Single plastic fibre, sleeving 0.5mm diameter, with a detachable optic connector
VP14-CBF - Small shank stainless steel needle probe for pre-clinical CBF measurements
SOFTWARE-VMS-RESEARCH-4VX - Advanced aquisition and analyses functions to collect signals and automate control protocol modules

What Next?
Contact us to discuss your specific needs and to request your copy of our free Application Note which includes a detailed experimental method and practical suggestions. We also offer no obligation on-site visits so you can test the equipment in your facility.