Applications
Intestinal And Gastric Mucosal Perfusion
Blood flow assessments (imaging and monitoring) have been made of scerosal surfaces of the gut when exposed surgically. Hajivassiliou et al, assessed blood flow distributions in human colons during operations on six controls and six patients with inflammatory bowel disease undergoing colectomy. Ischaemia demarcation lines were identified before the onset of visible changes.
Mucosal measurements are possible with monitoring via endoscopic access. Assessments can be made to check surgical patency post resection, to compare flow in normal and diseased tissue or to monitor flow continuously during other procedures. Ohri et al, 1993 for example, studied the effect of cardiopulmonary bypass (CPB) on the gastric mucosa of adults (GI damage occurs in up to 2% of patients on CPB with significant mortality). They used an endoscopic probe positioned in the gut following retrograde insertion in a naso-gastric tube. This enabled laser Doppler (LD) measurements to be taken with increased stability. Observations included profound reductions in mucosal blood flow during hypothermic phase of CPB despite maintenance of mean arterial pressure (MAP) and flow. A close relationship between core temperature and gastric mucosal blood flow (GMBF) was found, and also between MAP and GMBF.
Equipment Recommendations
The current equipment recommended by Moor Instruments for a mucosal study would be moorVMS-LDF with a VP6a (end viewing) or VP6asd (side viewing) endoscopic probe.
Laser Doppler Monitor

moorVMS-LDF
Advanced, laser Doppler blood flow and temperature monitor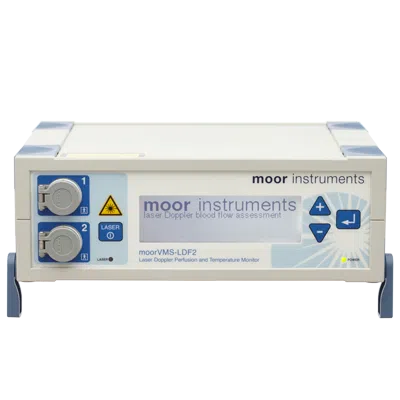 What Next?
Contact us to discuss your specific needs and to request your copy of our free Application Note which includes a detailed experimental method and practical suggestions. We also offer no obligation on-site visits so you can test the equipment in your facility.